Located in the heart of Cheshire, this market town is surrounded by picturesque landscape and filled with history, so why has it been overlooked for so many years?
At first glance Middlewich might appear to be a sleepy rural town with little to see or do, but Middlewich is filled with independent shops, markets, local events and festivals, Roman Heritage and much more.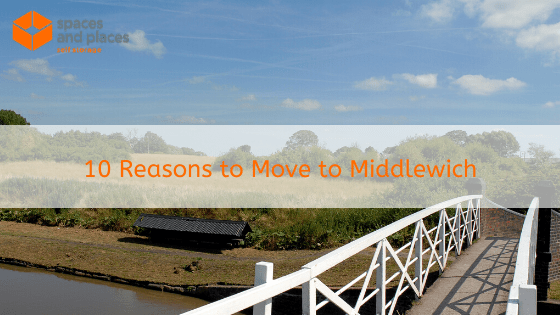 Middlewich – Cheshire's Best Kept Secret
Middlewich has been one of Cheshire's best kept secrets for many years now, boasting Mexon Market, beautiful canal routes, a Norman Church and the famous FAB Festival, it is clear why Middlewich is now catching the eye of buyers.
With lower prices than neighbouring towns and new developments popping up in the area there is no shortage of housing where you can stretch your budget further.
Middlewich – the home of New Homes!
New housing developments in the area such as Oakwood View by Morris Homes present beautiful detached homes from 1 to 5 bedrooms starting from £216,750, suitable for both young professionals and families.
Middlewich town centre hosts a regular farmers' market and has a variety of shops, a local butchers, farm shops and restaurants. The new homes are located in a quiet and peaceful setting, and they are well connected via the M6 and the A54. The M6 takes you to the Crewe, Stoke-on-Trent and historic Roman city of Chester within short distances. (Manchester, Liverpool, train to London).
Why is it the Perfect Time to make your Move to Middlewich?
Now is the perfect time to buy as interest rates are currently at 0.1%, making monthly mortgage payments lower than they have been for some time. Competitive mortgage deals are abundant, lenders are now competing to offer low interest products and better deals.
We believe it's a buyers' market and a perfect time to snap up an opportunity to relocate to Cheshire. For first time buyers there is currently no Stamp Duty on homes up to the value of £300,000, which could save you up to £5,000 making it the ideal time to step up onto the property ladder.
Have we Persuaded You?
If you can see yourself enjoying the floating markets on the canals, a Taste and Tipple Weekend, an annual Literary Festival and the Makers Market then Middlewich might just be the next place for you to call home.