For many students, the summer break is a time to go home and relax. But before you pack up your belongings for the year, there are a few things you should know about storing them during this long off-season.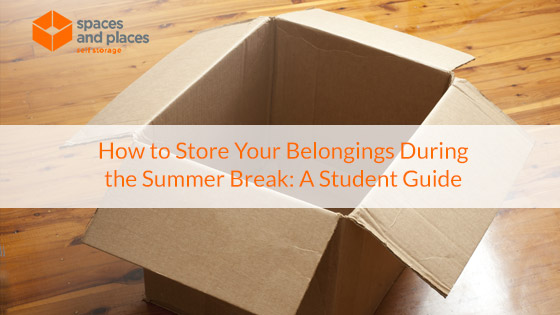 If you're not careful, your clothes and books could get ruined! Here's some information on what to do with everything from your winter coat to old textbooks that have seen better days.

Pack up your belongings in a large box and label it with the date you'll need them again
This will help with organisation and will make it easier when you're ready to head back. Just be sure not to pack anything in a box that will need more than six months of storage.
If the items are too large for your room, don't worry! There are plenty of options for self storage facilities like Spaces and Places in Nuneaton for example, who offer a wide range of storage units to suit various budgets and needs.

Find a storage unit that is close to your school or home
Location is important when storing your belongings. If you're in the process of moving your belongings to school or from home, it's best to find a storage unit that is close to where they need to go so you can visit them more easily. Having easy access to your belongings will also help you take better care of them and make sure nothing is lost in the process.

Store Textbooks in a Sturdy Box
For protection, store books upright, and the spine should be facing outwards. For paperbacks, stack them horizontally so that they're not bent. The sturdy box will act as a buffer in case the box is dropped or crushed.
For water protection, store your books in a zip-lock bag. If you're storing them for an extended period of time, place the watertight container on top to ensure that no moisture can seep from the bottom and into your textbooks.
At Spaces and Places, we want you to get the very best deal on storage. Check with our team for the options of different types of storage as well as the prices for each.
Determine the amount of belongings you need storing and then make a decision based on which is the most suitable for you.
With the summer break in full flow and find that your school supplies are taking up space in your home, now is the time to make arrangements for storing these items.
Whether it is a storage unit or something else, always keep in mind how easy and accessible your belongings will be once they are stored away. If this sounds like something you need help with, contact us today so we can work on finding a solution together!