The wedding day will be one of the most memorable days in your life. You want to make sure that you have all your memories from the big day, but what about the dress? It is not always practical to store it with other clothes or to hang it up. In this article, our experts will provide helpful tips on how you can pack a wedding dress for storage without damaging it so that you can preserve those memories!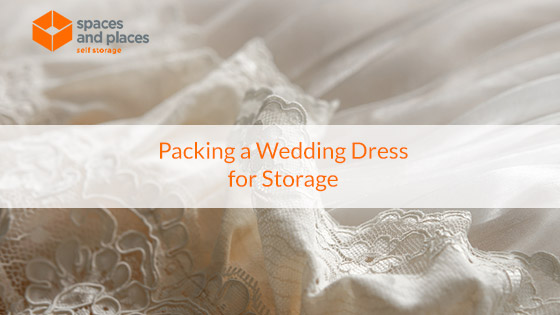 Use A Padded Surface
Place the dress on a padded surface and cover it with a clean sheet. The sheet will protect the dress from getting too dirty and scratched. The padded surface will also help to keep the dress from creasing and prevent rips or tears.
Fold the Dress Effectively
Fold in the side hems of the skirt into the waistline of the dress and fold in any sleeves. Do not crease or wrinkle the dress by folding it over on itself.
The skirt of a wedding gown should be folded to make sure that there are no wrinkles, but if you do find one don't tug at it because this could cause more damage than good! The number of folds will depend on the size of the dress.
Fold the dress in half with the front of the dress facing out and then fold it again from top to bottom. The back should be on the outside for this step so that you can see a seam at each end, which is where you will put your pins.
Use Garment Bags
Garment bags are perfect for more delicate dresses that need extra protection from dust and other particles.
Garment bags are also great for storing other clothes and accessories that you don't want to get wrinkled up before your big day, such as a nice suit or cocktail dress.
You can purchase these bags from a number of retailers and they are typically made of clear plastic or nylon.
Be Aware of Embellishments
If you're packing an expensive and delicate lace wedding dress, it's important to make sure that when the bag is closed or tucked away in your suitcase, nothing can get caught on any of the embellishments.
Store your gown separately from all other items so as not to damage those details like beading or trim with a zip.
Almost every woman who has ever worn a wedding dress (and even many of those women's mothers and grandmothers) have gone through the same frustrating experience. You want to preserve your beautiful gown so you can show it off again one day, but how do you pack it for storage?