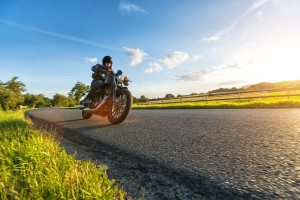 Do you love your bike in the summer but ride it less in the cold wet weather of winter?
Okay, so no one really wants to stop riding their bike but unfortunately, we live in the UK and that means fewer sunny days than we'd ideally like to enjoy. This is where a small, short term self-storage unit will really help you out.
Of course there could be other reasons why you will not be riding your bike for a while- your job is taking you abroad for a spell, or you are taking time out to travel the world, or are having an extended vacation but whatever the reason for taking your bike off the road, it makes good financial sense to keep it in self-storage.
Register your bike as SORN and you won't have to pay tax, insurance or for an MOT- at least, not until you're ready to ride again. This could potentially save you hundreds of pounds.
If you're thinking of retiring your bike for the winter or even longer, use this link to the government SORN webpage. The link will show how to do it.
Using a self-storage unit to store your motorcycle is a great way to make sure that it remains in tip-top shape throughout the year.  At Spaces and Places we have Corten steel, water tight units, with Smart Water technology, CCTV and sole access, so you can be sure your bike is safe and dry over the cold snap, and also (as an added bonus) protected from light fingered felons out to grab a free 'gift'.
A single motorcycle will only require a small unit and Spaces and Places offer an easy flexible option for storing your bike. Once you have a self-storage unit booked carry out the following few simple preparations to ensure your motorcycle is in good working condition for when you want to use it again
Make sure your bike's coolant system is leak-free and your anti-freeze mix is fresh
Top up the air in the tyres as they will slowly leak air while they're in storage
Remove the battery. As with all vehicles the battery will die when it is not used for a time
If you are looking to take your motorcycle off the road, Spaces and Places will ensure your bike is kept safe and dry through the winter months. Get in touch with your local site today.