There are quite a lot of things that we acquire in both our homes and workspaces.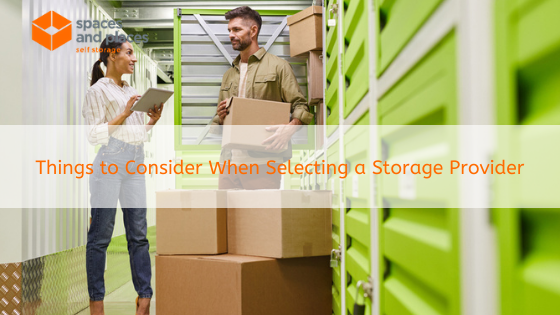 These items often end up taking too much space, and it becomes difficult to remain organised, especially if the area is too small.
Therefore, it is essential to consider renting a storage unit, where you can put all your valuable items.
In this article, we discuss the factors you need to consider when selecting a storage provider.
1. Security and Safety Details
When looking for a storage facility, the safety of your valuables should be of most significant concern.
A credible storage facility should always ensure that the security of all the stored items is guaranteed. But how can you be assured of this?
There are various security measures you can look out for, and they include; Well trained security personnel, a well lit and fenced area, practical fire safety measures and 24-hour surveillance cameras. The entire storage unit should also be free from mould, pests, and adequately secured.
2. Location
Convenience and easy accessibility to your goods matter too. For people who need to access their items quite often, a location that is near works best. Storage facilities that are far from the city tend to be less costly.
But you end up taking more time and spending more on fuel, especially when you need to access your goods often.
Far-located storage facilities work best if you are keeping your things away for more extended periods.
Storage spaces located in cities offer greater convenience, in terms of time, ease of accessibility and fuel costs.
For instance, you can consider the storage units in Manchester, since they are reputable and offer great customer service.
3. Cost, Size and Duration
All these factors are interdependent. The first step is to make a list of all the items that you need to be stored. Once you have this, it will be easier to determine the space that the things will occupy.
Sizes differ according to the width and length of the units. Ensure that everything fits in properly.
The total costs depend on the size of the unit you settle for, and the duration you will store your items.
4. The Amenities
Some items are more valuable and delicate compared to the rest. It is necessary to ensure that the storage provider has amenities that offer safety for things such as pieces of art and items made of glass.
Also, consider ample indoor and outdoor lighting at the storage facilities. Ensure the storage units are spotless, and of superior quality.