When it comes to finding extra space for storing your goods, a self-storage facility always comes in handy. In most cases, these units serve the user's need for the temporary storage of goods before moving them to the market.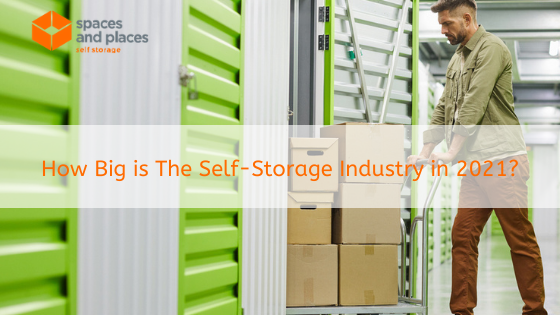 The good thing is that any business can incredibly benefit from having a self-storage facility.
But, how exactly big is the self-storage industry in 2021? This question is quite hard to answer. Such units are usually not officially recorded anywhere.
Besides that, there are many small facilities set in rural areas and are not licensed. Also, you will find most of them with less online presence or marketing. Therefore, it can be tiring when you want to determine the size of such an industry accurately.
With the Covid-19 pandemic outbreak, the demand and growth of self-storage space have continued to rise.
According to estimates made by SSA UK, there are more than 1900 self-storage units in the UK. Of the total storage units, 563 entirely offer container-based storage, classically transformed into shipping containers.
Moreover, these units occupy about 49 million square feet in the UK, with an average size of up to 25,700 square feet. In 2020, the turnover estimates from the industry stood at £766million.
About 30% of self-storage units in the UK are managed or owned by large operators who manage more than 10 sites.
Most of these operators usually have larger sites and are situated in advanced rental locations. Therefore, their market shares are relatively over 40% regarding the total space and revenue they earn.
Bottom Line
The UK registers up to 41% of the self-storage industry with the most storage per individual than other UK countries.
Therefore, we can't expect that figure to reduce any time sooner. There is no doubt that the number of self-storage space in the UK in 2021 will hit over 50million sq. ft.
Are you looking for reputable and reliable storage services in Manchester? If yes, Spaces and Places has the most secure self storage units in Manchester.
The good thing is, you can find ample space that suits all storage needs. With remarkable services, you can always rely on them for both short and long-term storage of your goods.
Reference;
https://www.cushmanwakefield.com/en/united-kingdom/news/2020/05/demand-for-self-storage-space-in-the-uk-remains-robust
https://www.statista.com/statistics/482679/expected-development-of-the-self-storage-industry-united-kingdom/