Here are six pieces of advice based on the most common student packing mistakes.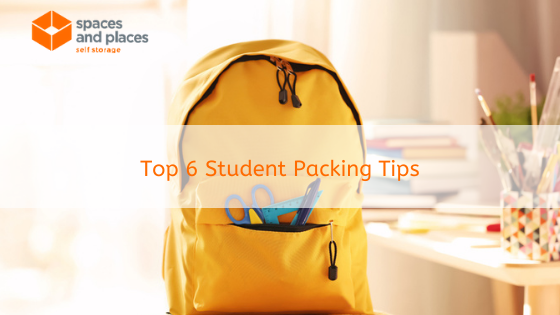 Though it is funny to see YouTube videos of students trying to transport their beer-can sculptures or students with suitcases that burst open to review their spotted underwear, there are some packing mistakes that are a little less obvious.
Here are six student packing tips that will serve you well.
1 – Buy and Use Collapsible Plastic Boxes
Do not underestimate the sheer power and versatility of collapsible boxes. Not only do they make packing and unpacking a breeze, and not only do they store away very nicely, but they are also useful in your everyday life.
Your online groceries charge extra to deliver with bags, so whip out your box and fill it at your door when the delivery driver arrives.
Do you have junk on your desk and floor that you need to shift before your big date, expand a box, throw your stuff in, and put it in your closet, result: clean room, no fuss, no mess.
2 – Fold Your Clothes
There is this misunderstanding with students where there is an honest belief that if you simply lie clothes on top of each other, that you are making fuller use of the space, but it is just not true. Neatly folded items will fit into a case or box far better than if you try to "Tetris" them into your case.
3 – Use Moisture Absorbing Silicone
You can buy this stuff from grocery stores and online for fairly cheap. People use them around their house to stop mould, and you can use them in your storage area, or in your plastic boxes to stop mould damage.
Things that are vulnerable are clothes in long-term storage, printed/glossy photos, old books that use pre-polymer paper, and cuddly toys.
4 – If It Can Crack, Do Not Stack
The old advice "Stack heavy stuff at the bottom" is true enough but doesn't always apply. Your slow-cooker, your glass/metal table, and your PC tower can probably hold a bit of weight, but too much weight will crack them.
If you have to stack, such as if you have hired a small-but-secure unit from Spaces and Places Self Storage, then do not be afraid to steady up your stack's foundations with everything from wood to breeze blocks.
5 – Know What Not to Pack
Sounds silly, but many items will do better if you transport them as they are rather than trying to box and bag them up.
It sounds like a joke, but there are student-hired removal vans where the student has tried to box up his punch bag or tried to box up her clothes hangers.
A punching bag goes in as it is. Clothes hangers can be tied together and thrown on top of whatever you are moving, they do not need to be neatly boxed unless you are storing them for the next 10 years.
6 – Do Not Buy Cardboard Boxes
Despite the fact that you can pick up cardboard boxes everywhere, from neighbours who have had Amazon deliveries, to local shops down the street, there is also the fact that cardboard boxes are pretty useless.
If you cannot stack your stuff, then they are no help to you. Even putting your clothes in boxes isn't recommended as you can put them in bin liner bags and pile them on top of each other in the van.