Nuneaton is located in Warwickshire and constitutes the southern Midlands. This picturesque town is endowed with a rolling, green countryside, dotted with an array of magnificent historical attractions.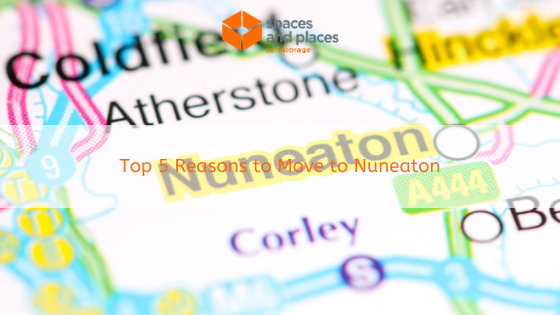 Nuneaton has something for everyone, from excellent infrastructure to fantastic nature.
If you're looking to relocate, the following are compelling reasons for choosing Nuneaton:
The Central Location
Nuneaton is central to major UK towns and cities. These include London, Coventry, Birmingham, and lamington. London is an hour away by train, while Birmingham is just 30 minutes away via road.
Besides, you can get to East Midlands Airport in approximately 30 minutes while travelling by car. Nearby towns include Kenilworth, Tamworth, Hinckley, and Leamington.
It's a Perfect Working Place
Thanks to the presence of diverse businesses and industries, finding a job in Nuneaton won't be much of a hassle.
The town is under a fast development curve, which means there are plenty of construction jobs and related business opportunities.
Besides, the town is just a short commute from major cities, which means that you can live there and work in Coventry, London, or Leicester.
Great Storage Facilities
You can easily find self storage Nuneaton to store some of your stuff if you're looking to downsize your home. This is especially true if you haven't found a job yet, and you're looking to cut on your expenses, such as rent and utility bills.
Moreover, decluttering your home will be a piece of cake with such storage facilities; you don't need to keep items that you don't frequently use around you.
High-Quality Educational Facilities
Whether you're looking to expand your knowledge or find a decent school for your kids, you'll be happy to know that Nuneaton offers a healthy selection of educational facilities.
This town boasts over 20 primary schools, both private and public. It also harbours over seven major secondary education institutions and five higher learning establishments.
Besides, there are excellent stowage facilities like Spaces and Places Self Storage in which you may keep your belongings safe during holidays or when you need to take a gap year.
Plenty of Family Sites and Fun Activities
Nuneaton offers fantastic attraction sites inside and around the town. If you're a nature enthusiast, you can have a great time in the Bosworth Water Park and relish Kayaking, fishing, and windsurfing.
You could also blow your kids' minds by taking them to the Hoar Park Craft Village or Children's Farm. If you're a sucker for history, local museums and Astley Castle are bound to appeal to you significantly.
You may also enjoy family picnics by taking a walk around the Hartshill Hayes Country Park and create a lifetime of memories.
Nuneaton is an incredible tourist destination and a great place to live in, regardless of your age. It's endowed with booming businesses, great schools, and infrastructure with a modern appeal.
This town is also close to major cities and towns, which makes it a suitable place to live while working in these metropolises.