The gap year period is usually super exciting. It is time for students to break from academics, explore new environments and roles, or make discoveries.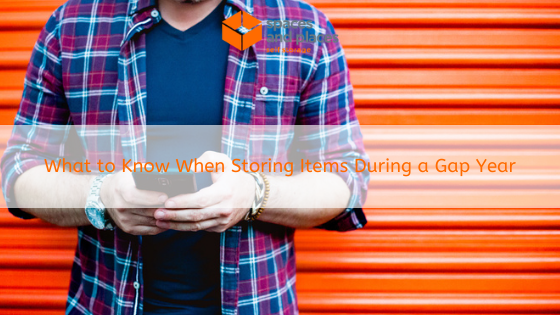 For others, that plane ticket abroad is the ideal relaxation time for breaking the monotony of work.
However, it is not always smiling during preparation for the gap year. A common dilemma is on where and how to store your belongings. A lot can happen when you are gone, especially in a city like Nuneaton.
Here are three things you should know about storing your items during a gap year.
Self-Storage Is the Way to Go
The gap year will see you away for an extended period. Leaving your belongings unattended can be costly and dangerous. On the other hand, taking the items home could also be impossible, considering that most students school very far away from home.
Plus, leaving your items with your friends can inconvenience them and cost you your precious friendship. The best solution is, therefore, getting a self-storage unit for your belongings. This solution is flexible, convenient, and above all, safe. Here are the reasons why self-storage works best.
• Security of items is guaranteed as the units are under surveillance
• No limits on duration items can be stored
• Very affordable rates
• Flexible and easily accessible for items of all sizes and type
• Relieves families and friends of storage space inconvenience
Proper Planning and Packaging Is Essential
Work out the items that need to be stored. If there is an item, you feel you won't need, consider taking it for auction to get some extra money.
It is also vital that you package items well using the right containers to avoid damage and possible confusion when you return. You will need tools such as boxes, tapes and bubble wraps for delicate items.
You can get all these tools from credible self-storage providers in Nuneaton like Spaces and Places. Pack related items together and label them appropriately, especially for fragile items. Make sure you don't stack boxes too high when storing them in your unit.
Also, confirm with your storage provider that the storage unit is damp free. You don't want to come back and find multiple items damaged by the moisture.
Things Not to Store in a Storage Unit
While self-storage is the best solution for your gap year storage needs, some items should not see their way into your storage unit. Here are a few things you should leave out of your unit as they likely won't be allowed by your self-storage provider.
• Animals and pets such as fish and dogs
• Illegal or stolen items
• Highly inflammable items such as gas cylinders
• Plants and food that may attract pests
• Unlicensed items that require licenses from the authorities
• Foods that need refrigeration
Your belongings should not be the source of stress during your gap year endeavours. With self-storage, you are guaranteed security of your items for as long as you need.
What's more, it all comes at student-friendly rates. If you are planning to get a storage unit in Nuneaton, Spaces & Places have been offering safe, flexible, and affordable storage services for several decades. Get in touch with us for a quote.