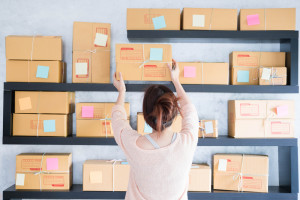 Decluttering, no one wants to do it but there often comes a time when we realise just how cluttered our homes have become. Maybe your home is full of sentimental items that you have no use for but can't bear to let go of, or things you use infrequently but just enough that you aren't prepared to throw them out?
Many people simply live with this clutter instead of considering the alternatives and this is when we ask, have you considered self-storage? Self-storage allows you to securely store occasionally used items for when they're needed at an affordable price. This frees up valuable spaces in your home and can be a breath of fresh air when mess and clutter are becoming causes of undue stress. Decluttering your home has been known to have several health benefits including creating a sense of confidence and competence as well as reducing your anxiety tension in relationships or family environments.
Instead of letting those pesky suitcases take up space in that spare room imagine if you could actually use that room for something constructive; maybe a bit of yoga or perhaps a play room for the kids? Either way no one wants a un unusable room in their house, take the initiative and declutter your house with self-storage.
If you're lucky enough to own a garage, you may have taken to storing valuable but unused items in there but it's important to note that reduced security levels often make garages prime targets for thieves. For this reason, we actually recommend cleaning out your garage in favour or self-storage. Garage robberies are so common that the Metropolitan Police has even released a list of the top most commonly stolen items from garages. This includes bikes, sports equipment, and power tools. Clearing out your garage also has the added bonus of reducing your insurance premiums as well as allowing you to feel better about the safety and security of your vehicle.
Self-storage isn't just for cluttered homes! We find that business owners who use our storage solutions to declutter their workplaces see improvements in workplace efficiency and a more motivated workforce. Plus, it never hurts to have a neat and tidy space to make a good first impression on prospective clients or stakeholders when they come for meetings.
If you're looking for an affordable and convenient way to store things you don't use very often then we cannot recommend self-storage enough. All of our storage solutions are designed with 24/7 access in mind and will keep your belongings safe and dry in all weather conditions. Want to hire a self-storage unit and free up space in your home, garage, or workplace? Contact us today.