You might be wondering how we are operating safely during COVID 19, and rightly so. Here at Spaces and Places Self Storage we are working to ensure the safety of our staff and our customers. To do so we have adapted our working systems to follow the government guidelines.
Fortunately for us the nature of self-storage allows us to keep a safe distance and does not depend on human contact. All of our sites are outdoors, and our storage containers are accessible without the need to interact with any member of staff.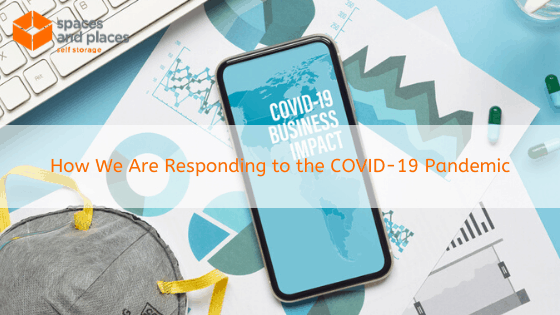 Beyond this, we are working tirelessly to ensure total safety here on-site and have updated our usual procedures and operations to reflect this.
Additional Covid-19 Procedures to Help us Help you
In response to the pandemic, we have developed additional procedures to increase levels of cleaning, hand washing and sanitisation. We are disinfecting all surfaces more regularly than before, particularly any areas that may be touched such as the gate, padlocks, handles and doors.
During 'out of hours' periods, customers have access to on-site bathrooms/WCs; we kindly ask you to wash your hands with the disinfecting soap or cleansers provided.
We ask this so that we may work together to protect ourselves, other customers, and our staff against the virus. We recommend wearing a mask and gloves but this is not compulsory and you are free to determine for yourself what is most suitable in your situation.
Covid-19 Risk Assessment
We have carried out a safety risk in line with the HSE guidance and have deemed our sites to be low risk. However, we must work together to ensure we respect the government guidelines on distancing and personal hygiene to prevent the virus from spreading.
Supporting New Customers during the Covid-19 Pandemic
When new customers sign up for a unit, to avoid any transmission, we provide brand new pens that the customer gets to keep. We also have disposable gloves, available upon request.
Our staff have access to hand sanitizer at all times and are asked to use this regularly. Hand sanitizer is available in reception for customers to use if required. We also provide 'non-contact' sign-ups. Simply call us on our free phone number: 0800 124 4363.
Thank you for your support
We have felt so lucky to have been able to remain open, supporting local businesses, which is so important in these unforeseen times. We want to say a big thank you to all of those that store with us, have stored in the past and those wanting to store with us.
We hope that together we will be able to come out of this stronger and more equipped for the future as a result of this global pandemic. As a community it has never been more crucial to pull together and support our local businesses.
We are here to provide safe, secure storage and advice. Now and always.