The 'working from home' stigma has disappeared since the COVID-19 pandemic occurred. Remote working is now common even if it's under a challenging landscape. The rapid development of remote working led to the disappearance of the stigma associated with it prior to the pandemic.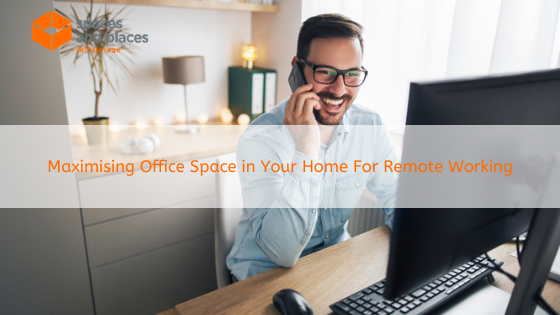 Twice as many employees are working remotely, according to Stanford research. It's the new 'working from home' economy. Hubspot shows that since 2010, the number of people who are working remotely has increased by 400%.
Despite the accelerated growth in figures, remote working has its challenges. Clutter decreases productivity and lack of space at home makes it impossible to create an organised and distraction-free work environment. Read on to find out how you can maximise your office space with a storage unit in Manchester.
Reduce Clutter
A 2018 study published in Current Psychology highlights a strong link between clutter problems and procrastination across all age groups.
With age, clutter-related stress and frustration increase and lead to overall life dissatisfaction.
Remote working in a home office space involves removing some valuables and belongings from your space. When you don't have the room for these items, Spaces and Places is your solution. Our premium storage solutions come in different sizes, high-end security, and exceptional customer service.
No Distractions
Choose a separate room for your home office, which you can turn into a distraction-free working area.
Not all homes offer this possibility as many live in shared apartments or houses. If you don't have a separate and isolated room to use, try and create a no-distractions space.
You'll maintain increased focus and achieved high levels of productivity. A storage unit can help you keep valuable items and furniture while you create a perfect remote working environment.
Store Sentimental Items
Our facilities also help you store precious and climate-sensitive items in the safest conditions. You'll enjoy a free and organised space to sustain increased productivity while keeping valuable sentimental items.
Store your past photos, albums, discs, notebooks, and books in special storage solutions. We offer exceptional customer service to help you find the best option for your needs.
In today's remote working economy, the new normal is working from home. To ensure excellent productivity levels and superior results, you should organise a clutter-free home office.
Use professional self-storage solution providers to help you maintain a clean and clutter-free environment in your home for the best outcomes. Our team will help you choose the best solutions available.