Here at Spaces and Places, we work with a number of Green Companies to help improve our workplace's eco-friendliness. Here are 12 ways we currently do within our offices and storage facilities.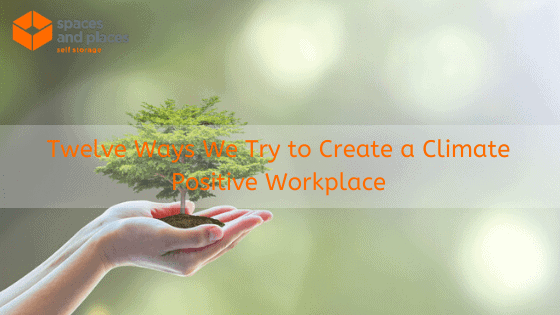 1) We use reusable water bottles and mugs at work. Disposable water bottles are found all over landfills and their environmental impact is horrendous. Reusable water bottles save money and have none of the invisible leaching from 'throwaway' plastic bottles.
2) We are conscious of our printing practices. We try to print using the double-sided printing option but when we can't, we use the setting that uses the least ink!
3) We show staff that recycling is part of our company values. We appreciate the efforts of our staff to work sustainably. We recycle paper, cards, plastic (when it's suitable), metal and glass.
4) We shred! All our wastepaper is shredded, but as part of our business model, we also offer reliable, affordable and speedy shredding services. The shredded paper is then recycled into other paper goods.
5) We encourage staff to weed by hand as much as possible. Chemical weedkiller is a big environmental no-no. Pesticides are another item we avoid at all costs.
6) We compost! Our composters are at each storage facility and we encourage all members of our team to place weeds, food waste & dead plants/flowers into the composting bins. Because our weeds are chemical-free, they are perfect for mulching down, and the compost created feeds new flowers!
7) We recently upgraded our office decor. The use of real plants in our indoor working spaces helps to filter the air. They also create a more peaceful and enjoyable environment for everyone. The addition of recycled plastic 'blooms' means that the plastic already clogging up the planet has a fresh and new use. And there's less landfill!
8) We use energy saving lights. Obviously, working areas need to be well lit, but we still try to remain eco-friendly. We use LED lights: they use a lot less energy and last much longer than standard light bulbs. In outdoor spaces, we use lights with motion or daylight sensors order to conserve energy. These are also appreciated by customers who are often using their units when daylight has faded.
9) Buying eco-friendly office supplies is another way we try to help the environment. By choosing recycled products, we are also supporting businesses that value sustainability, and ultimately preserving trees and other natural resources.
10) Turning off electricity when it isn't in use saves energy too. We ask staff to turn off lights and unplug electronics when they're not in use and to switch off computers and electronic devices completely rather than leaving them in standby: standby mode and screen savers still use a lot of energy.
11) For birthdays and other special events, we send e-cards instead of buying traditional cards. Not only are e-cards fun and often humorous, they are more environmentally friendly than paper cards that people tend to discard a few days later.
12) Finally, our self storage units are shipping containers that are specified for our purposes. Rather than sending them back to China empty, we utilise them for self storage. These are also extremely durable. They're fire-resistant, weather-resistant, and require very little maintenance. With proper care, we are able to rent these fabulous self-storage units out to people who need extra space, for many years. Moreover, they are a very affordable way to store goods, furniture, hobby crafts or expensive tools/equipment. And this means that, by saving money on property fees our customers can spend their money making their own homes or businesses more eco-friendly, sustainable, and technologically advanced.